Water quality plays a critical role in healthcare from clinical laboratory diagnostics and sterile processing to the overall operation of your facility. Contaminants in water can have a detrimental impact on facility systems and applications, jeopardizing equipment efficiency and reliability, as well as patient safety. The good news is there are multiple technologies and services that can provide reliable water quality to protect your facility's critical applications from contaminants, while also maximizing efficiency.

Most people assume that municipal drinking water is 'pure'. Although it is true that it is safe to drink (thanks to federal drinking water standards and regulation), it is often not pure enough for common applications found within hospitals. Below are five classes of impurities commonly found in municipal water that can have a significant impact on healthcare applications:
Suspended solids
Dissolved inorganic compounds
Dissolved organic compounds
Bacteria and microorganisms
Dissolved gases
Incorporating the right treatment technologies and monitoring your water quality will help to control these contaminants and ensure reliable, high-quality water for your facility.

4 Applications Where Water Quality is Critical

1. Clinical Laboratory Diagnostics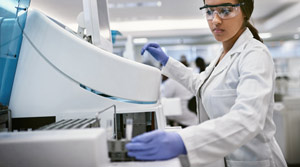 Water purity is essential in clinical laboratory diagnostics to ensure the integrity of test results and the performance of diagnostic equipment. Bacteria, salts, and organics commonly found in the building's potable water supply can contaminate the water used by diagnostic equipment, ultimately leading to inaccurate analytical results. These contaminants can also lead to mineral and biofilm build-up within the equipment, requiring frequent decontamination – or worse – system failure.

Fortunately, pre-engineered, integrated analyzer feed water systems are designed to minimize the risk of bacterial contamination and ensure inorganic and organic purity. A strict preventative maintenance program that includes sanitization, filter/tank changes, and feed water and product water monitoring will ensure a continuous supply of high-purity water. Water purification companies can provide training to hospital staff or complete service programs with proactive maintenance to help achieve the reliability and uptime that is needed in the clinical laboratory.

2. Central Sterilization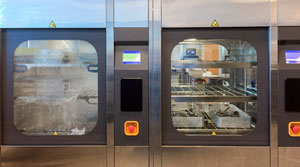 In central sterilization, water quality is critical for the decontamination, disinfection, and sterilization of medical devices and surgical instruments. Sub-standard water quality containing excessive minerals and chlorides can cause pitting, staining and corrosion, leading to time-consuming re-cleaning and shortened instrument life. Bacteria in the water can also lead to an increased microbial load, which can potentially have an adverse effect on patient safety. In addition, poor water quality can reduce the efficiency of detergents and cause degradation of the washing and sterilization equipment.

To ensure reliable water quality, a multistage water treatment process should be implemented with pretreatment, principle treatment, storage and distribution, and monitoring. Common methods for treatment include:
Softening
Dechlorination
Membrane filtration (Reverse Osmosis / Ultrafiltration)
Deionization
Ultraviolet disinfection (UV)
Sub-micron filtration
The water system should be monitored on a continuous basis to account for any changes in water quality that could affect the cleaning, disinfection and sterilization process that occurs in the central sterilization department.

3. Research Laboratories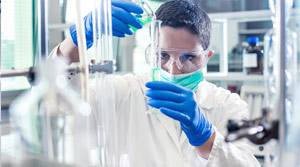 Water is used in a wide range of applications in research laboratories – from polymerase chain reaction (PCR) and cell culture to buffer prep or glassware rinsing. Whether your facility is conducting medical research or performing complex analytical testing, having the appropriate water purity is critical to achieving accurate results.

Achieving the correct water quality depends on selecting the correct purification technologies and a system design that accurately measures and monitors contaminants. Producing pure water is only part of the equation; validating quality, storing water, and maintenance are also key to ensuring reliable water quality in the laboratory.

4. Utility Water: Potable Water, Cooling Towers, Boilers, Laundry, and Humidification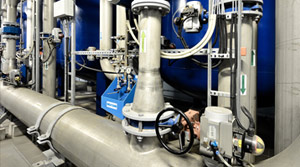 Utility water in healthcare facilities can be contaminated with particulates, dissolved inorganic and organic compounds, bacteria, and dissolved gases. Cooling towers run the risk of inefficient operation, increased energy costs, and potential legionella contamination. Boilers are prone to scaling, foaming, and deposits that can clog pipes and cause corrosion. The laundry can experience sub-optimal cleaning and inefficient detergent use and humidification systems can run inefficiently, clog, or create risks associated with bacterial contamination.

These risks can be avoided with an effective water treatment process incorporating technologies such as:
Filtration
UV disinfection
Softening
Reverse Osmosis (RO)
Deionization (DI)
Combined with proper maintenance and regular service, these water purification technologies can virtually eliminate the risks associated with the contaminants commonly found in municipal drinking water. Effective water treatment also brings the added benefits of increased operational efficiency and longer service life for equipment.

Download our Water Purification Solutions for Healthcare brochure to learn more about the products and services that can help you achieve reliable water quality for your healthcare facility.

Click here to download

Ready to get started today? Contact us for a free consultation. A local sales engineer will get in touch with you to discuss your water system and recommend a custom solution to meet your healthcare facility's needs.

About Evoqua
Evoqua is a global company with more than 40 years of experience in water system design and development for healthcare applications. From central systems to clinical analyzer feed systems, feed water for surgical reprocessing equipment – even products to treat water used in cooling towers and boilers – we have the right solutions to ensure that you have the water quality you need – when you need it.