Integrating both modern housing and in-house clinical services under one roof, CCC Blackburn Center is one of only five centers in North America to combine healthcare, pharmaceutical services, retail, and supportive and palliative care housing for people experiencing homelessness. Each level mirrors a person's pathway to healing — from clinical treatment on the ground floor to independent living on the top floors — and supports every stage of recovery. Architect and designer Ankrom Moisan implemented the core tenets of trauma-informed design — acknowledging the built environment's role in creating or minimizing perceived threats and taking the role of design to support and dismantle problematic care models, within this space. Such design considerations included inclusivity, culture and gender, transparency, empowerment and voice, collaboration, and peer support to help minimize the stigma surrounding some of the patient populations. CCC Blackburn Center gives about 3,000 patients per year access to employment services, housing placement, and complementary clinic services.
Sleek exterior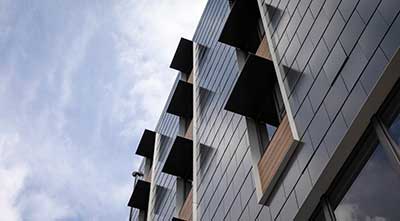 A sleek, modern design laces the exterior of the building.

A place to call home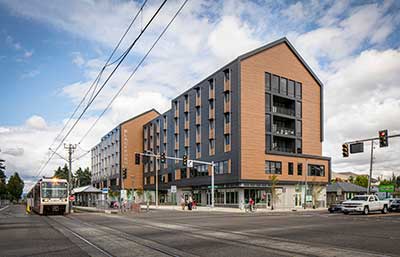 From a common area on the ground floor that leads up to the main clinic on Level Two to apartments that hold permanent housing on Level Six, each floor layout is designed to reflect patients' journeys to healing
Needs meet comfortability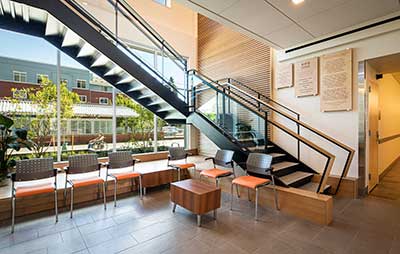 Trauma-informed design is infused on each floor to address patients' needs and provide comfort.