pCare's partnership with the Moffitt Cancer Center has led to the ongoing integration and support of its end-to-end interactive patient care system (IPS) within the newly opened inpatient surgical facility, Moffitt McKinley Hospital.
Each 350-square-foot room within the 10-story building of the new Moffitt McKinley Hospital is equipped with a Smart TV running pCare's IPS, including the Digital Whiteboard, which displays key information; TV entertainment; and BYOD (bring your own device) and casting capabilities, allowing patients to pair their personal devices with the pCare system. The patient engagement integration also includes Room Connect, the powerful digital door display that shows vital patient information at the entrance of their room and a user-friendly bedside tablet to navigate the system.
Patient outcomes improve when patients are actively engaged in their health and informed of their care. Moffitt McKinley Hospital's extensive use of the pCare IPS enhances the overall experience through compassionate care and collaboration between the patient, family and their care team.
Smart Room of the Future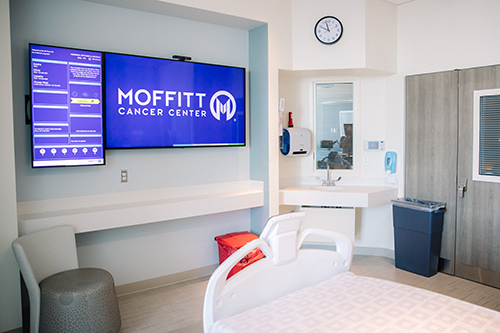 Each patient room in the new Moffitt Cancer Center McKinley Hospital features a smart TV running pCare's IPS, including a Digital Whiteboard to display key patient and provider information including daily schedules, the current care team, medications, meals, and more from multiple HIT systems.
Digital Door Signs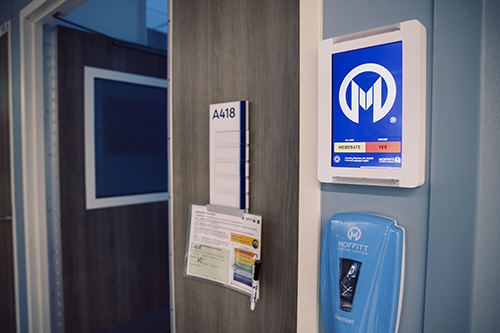 pCare's implementation at Moffitt Cancer Center McKinley Hospital also includes Room Connect, the powerful smart display that shows key patient information at the entrance of their rooms to educate providers on status and needs.
Empowering Patients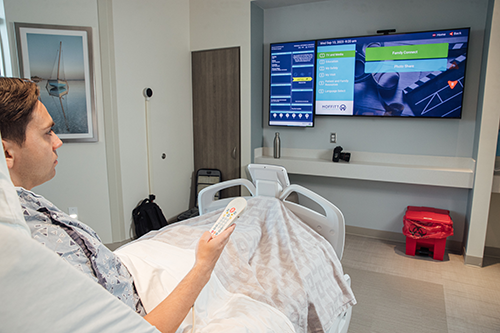 Patients are engaged, educated, and entertained with easy use of the pillow speaker to control pCare's IPS on their TV screen.
End-to-End Engagement
pCare offers comprehensive patient engagement systems, including the use of a bedside tablet to easily navigate the system and control service requests.
Incorporating Options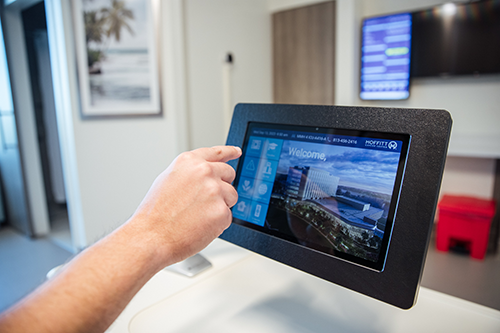 pCare's bedside tablet offers a dual-screen experience with advanced controls for the patient such as temperature, lighting, and dietary integrations, and provides an optimal interface for patients to manage their web-browsing, entertainment, and personalized health education.